Mix artists
Designed by Lionel Jadot and his collaborators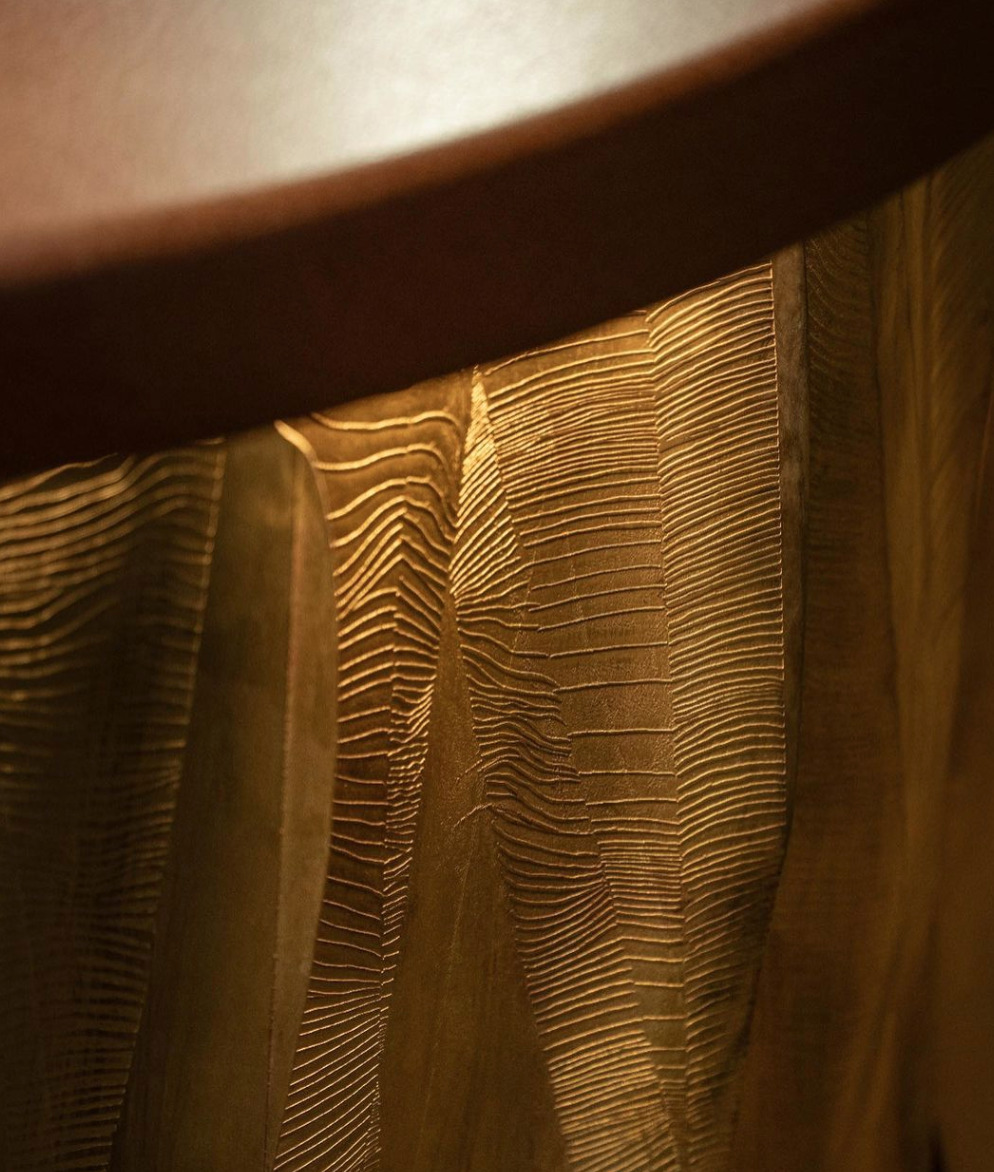 The huge AQUILON wall sculpture that wrap the Mix hotel reception desk was created by Maison Jonckers. A skin of Brass totally engraved and shaped by hand, an imprint as if shaped by the blast of the wind. Behind Maison Jonckers is a family story with Alexandra and Grégoire who are revisiting and highlighting their father's work, the artist sculptor Armand Jonckers.
art work / Aquilon
art work location / Hotel lobby, 2nd floor
artist socials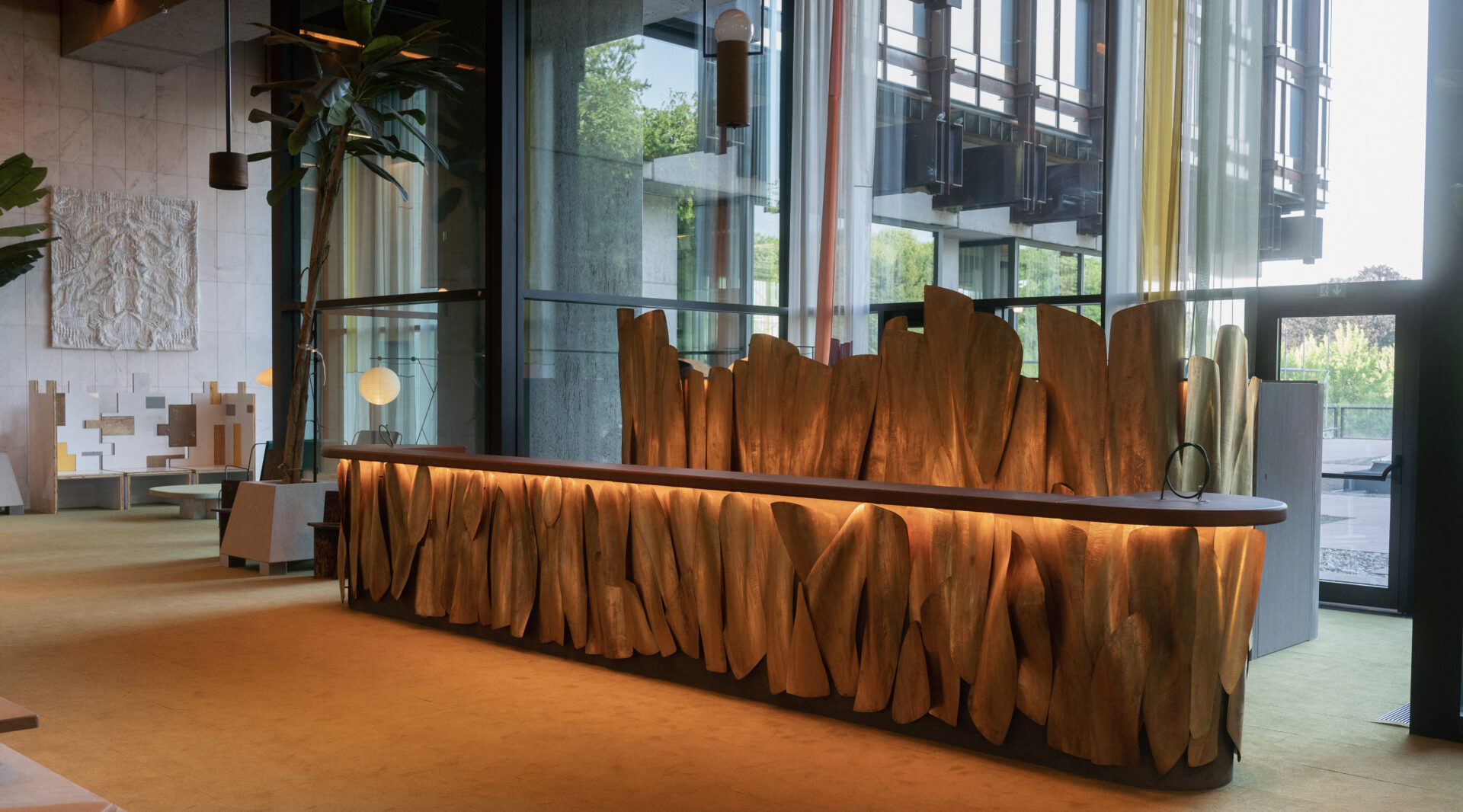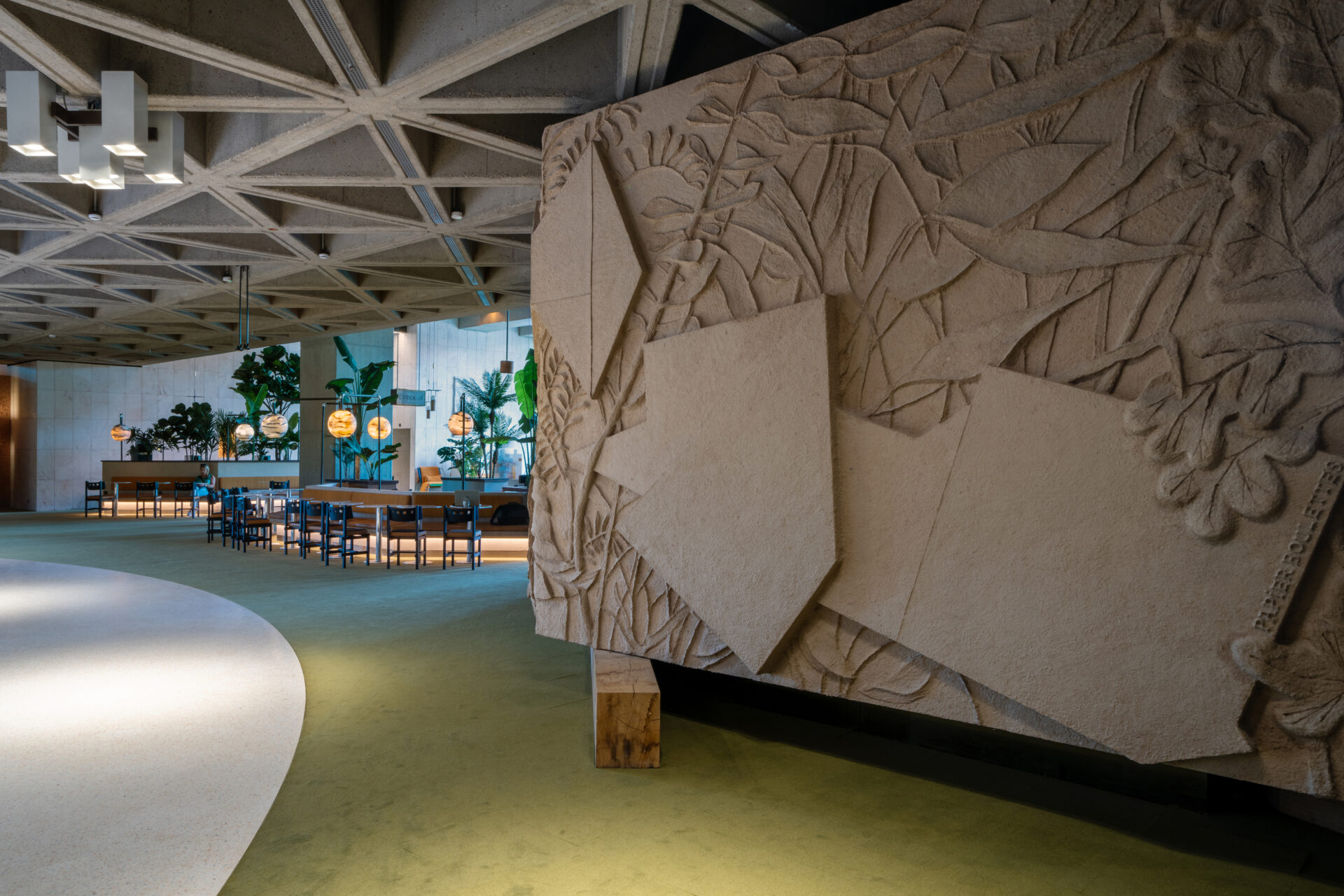 Papier Boulettes is the creative force behind the meeting rooms located on the second floor. They've meticulously crafted an impressive 28-meter-long fresco using recycled paper, shaped into mineral-like designs. This project reflects their commitment to sustainability, as they've repurposed discarded cardboard from the Mix site.
art work / Papier boulette
art work location / Meeting rooms, 2nd floor
artist socials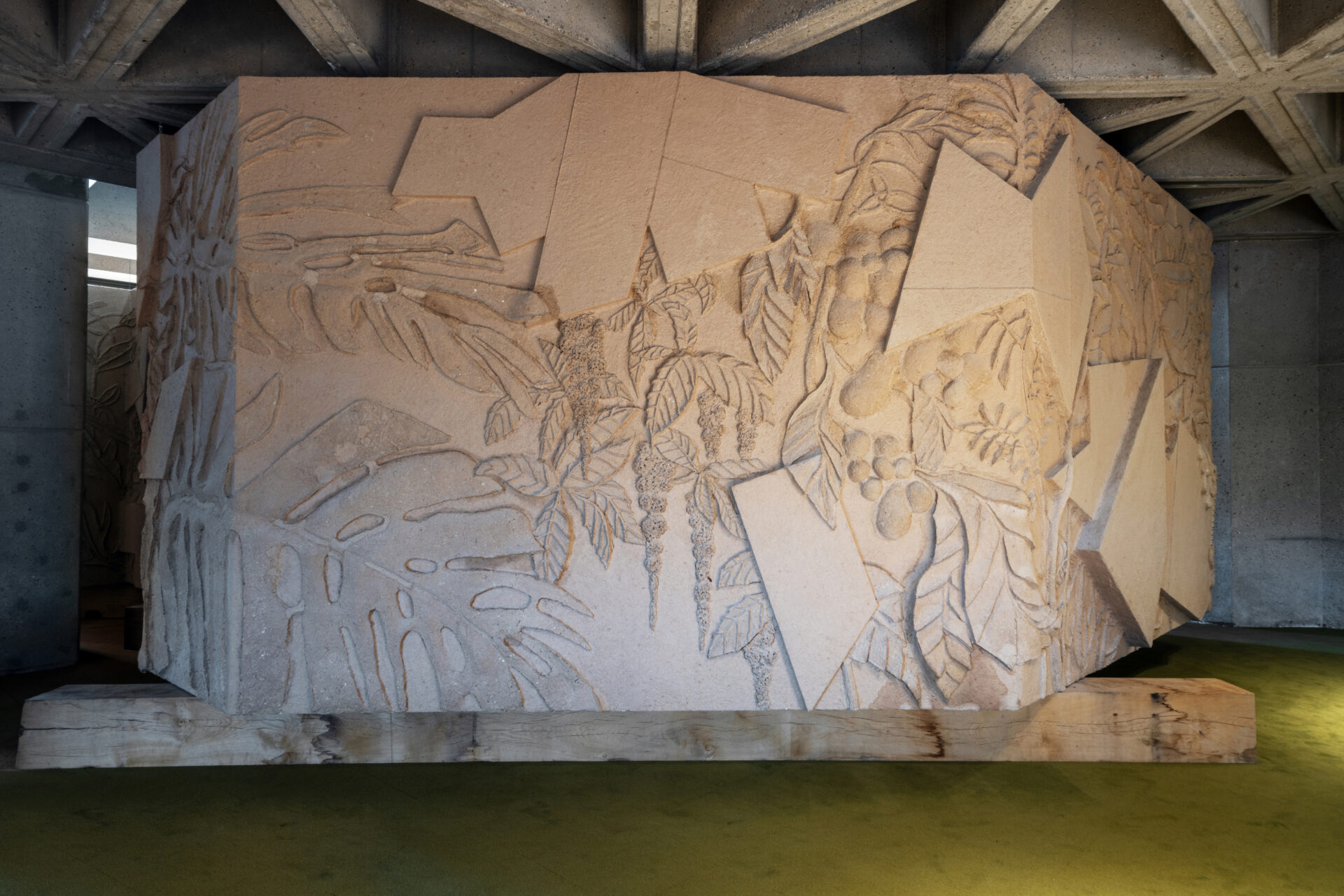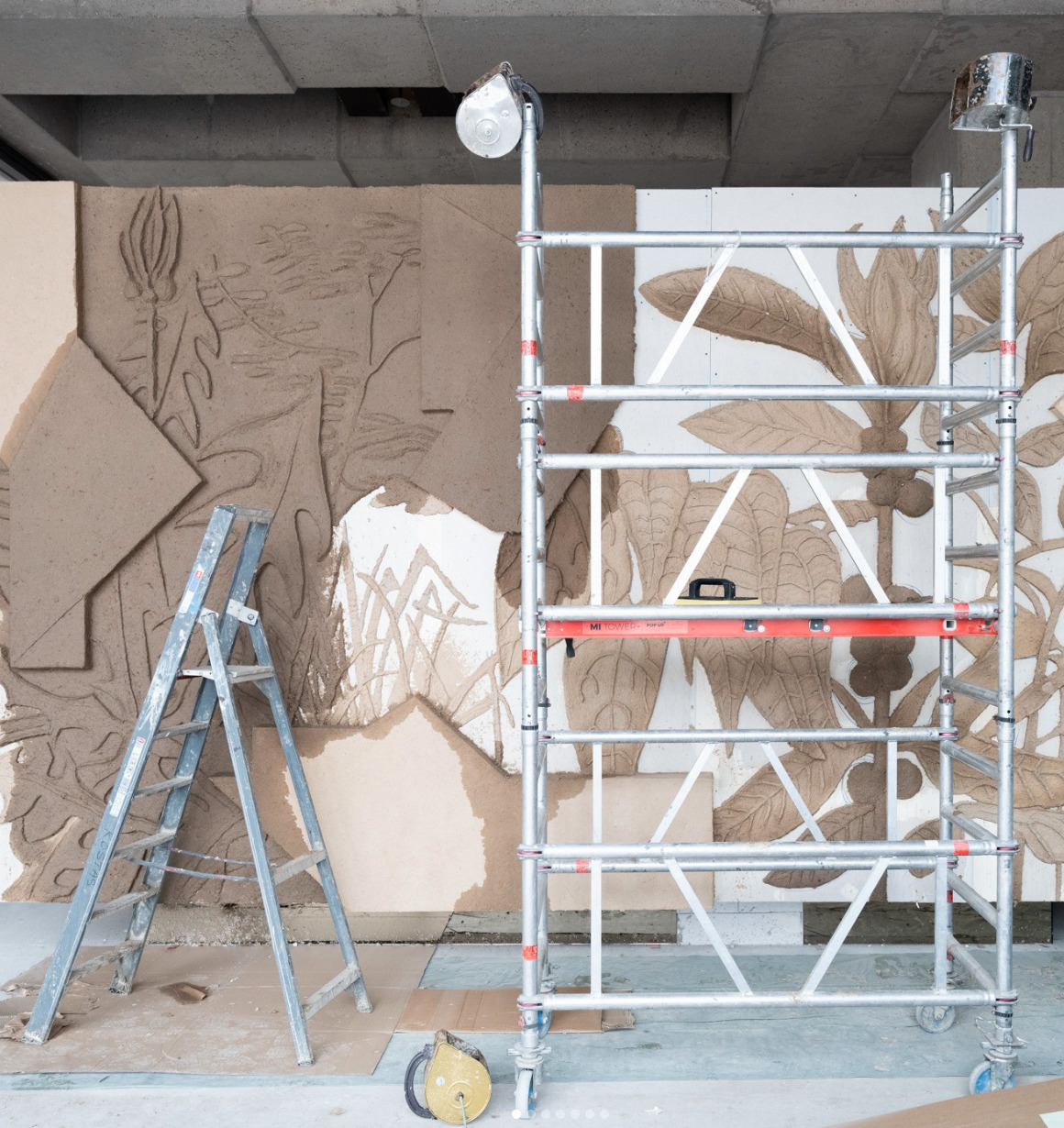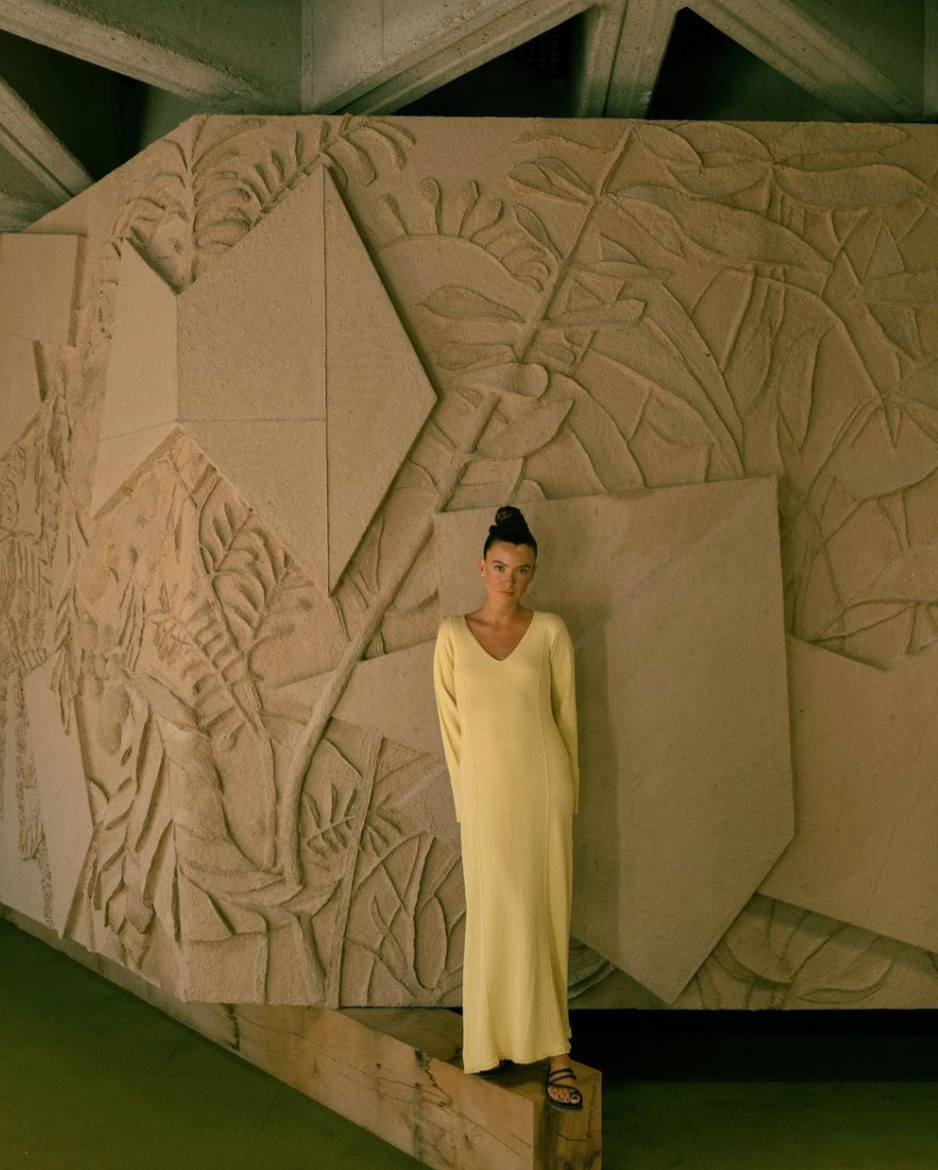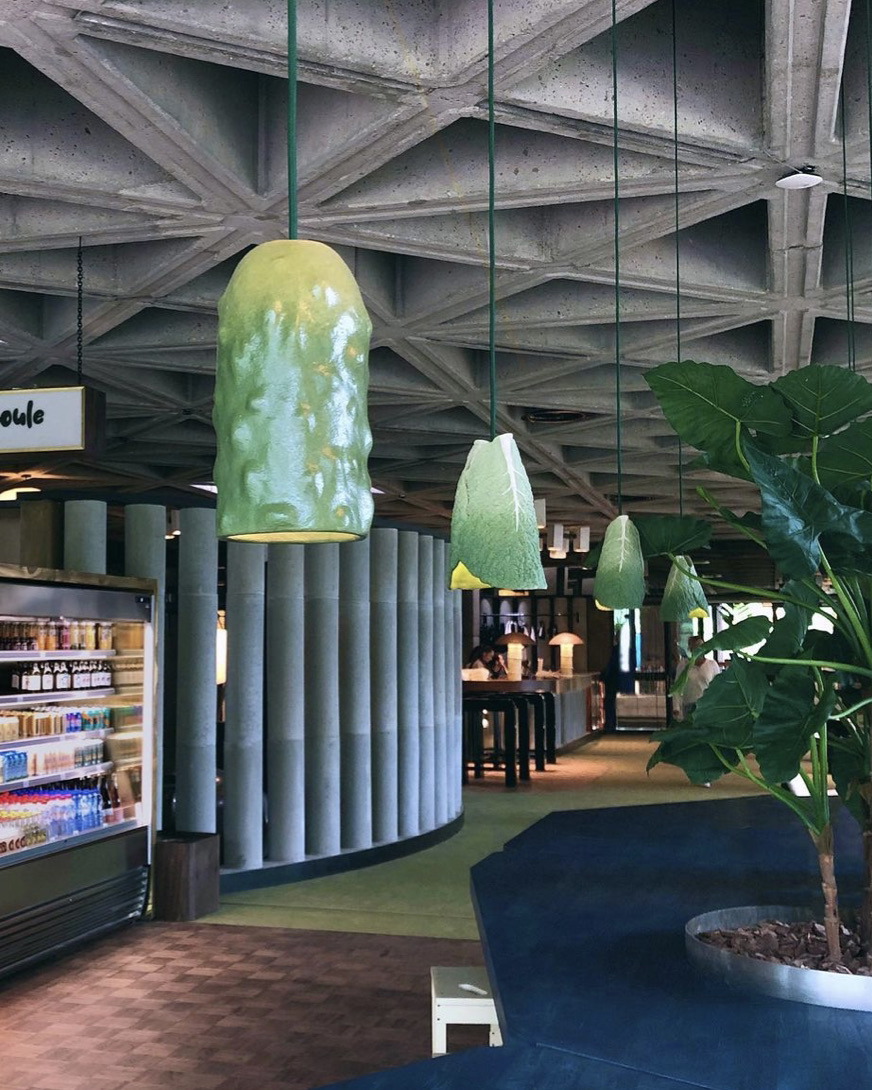 Éléonore Joulin is a French artist and ceramicist based in Brussels. She finds unexpected connections between her inspirations that give birth to sculptural functional objects. She crafted some cabbage and pickle hanging lampshades for the restaurant Joule, adding a touch of originality and creativity to the space. Her creations embody the art of ceramics, blending artistic elegance with practical functionality.
art work / Cabbage and pickle lampshades
art work location / Joule, 2nd floor
artist socials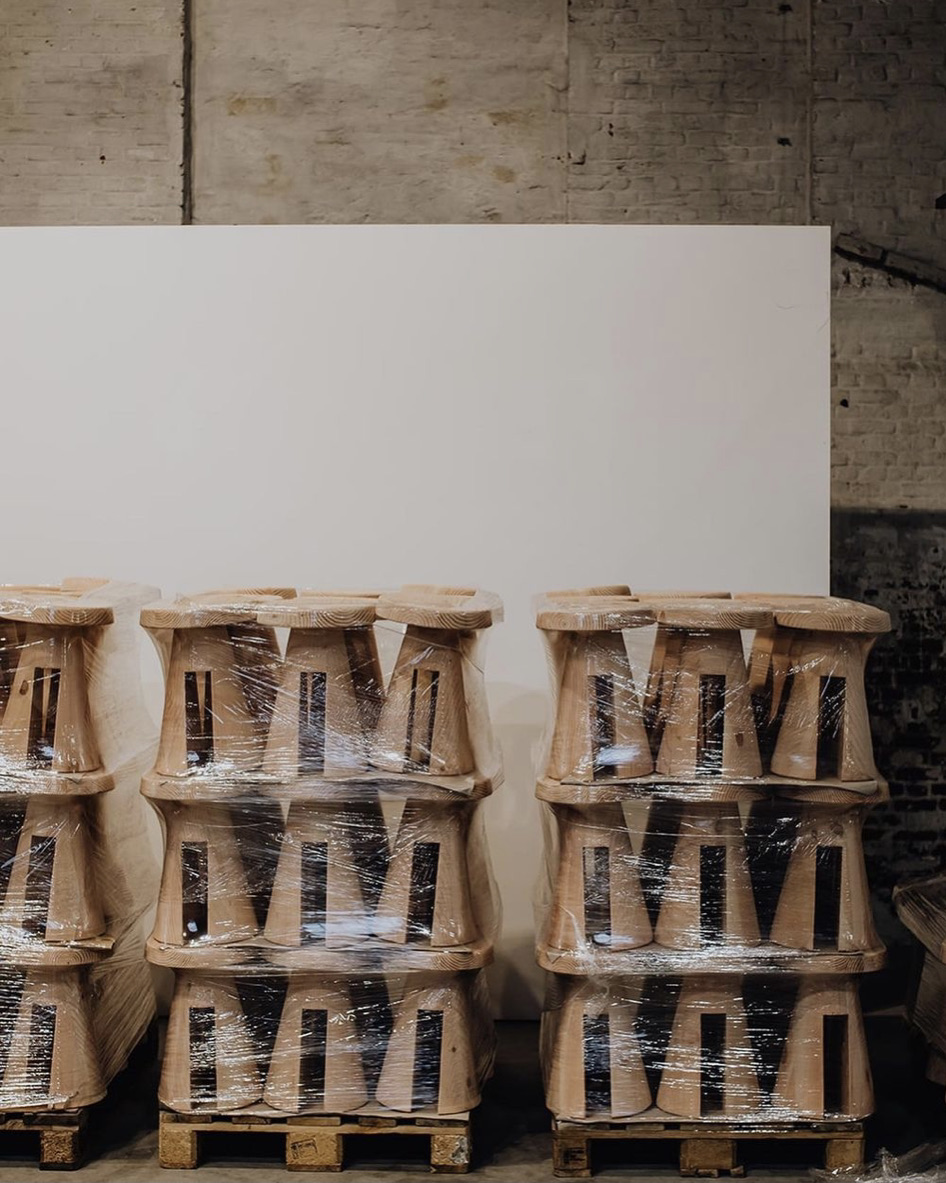 Atelier Serruys designs in simple lines with a practical approach to the material. Starting with the challenge to place the usage of a certain material out of his context. This, in combination with feeling no boundaries towards how a certain technique needs to be operated, opens a whole scale of interesting perspectives.⁠ They made for Mix some simple stools in solid wood, based on basic geometric motives such as the circular seating and the triangular base with rectangular void and their SPC chairs for the Romeo terrasse.
art work / Data stool & SPC chair
art work location / Romeo terrasse, 2nd floor
artist socials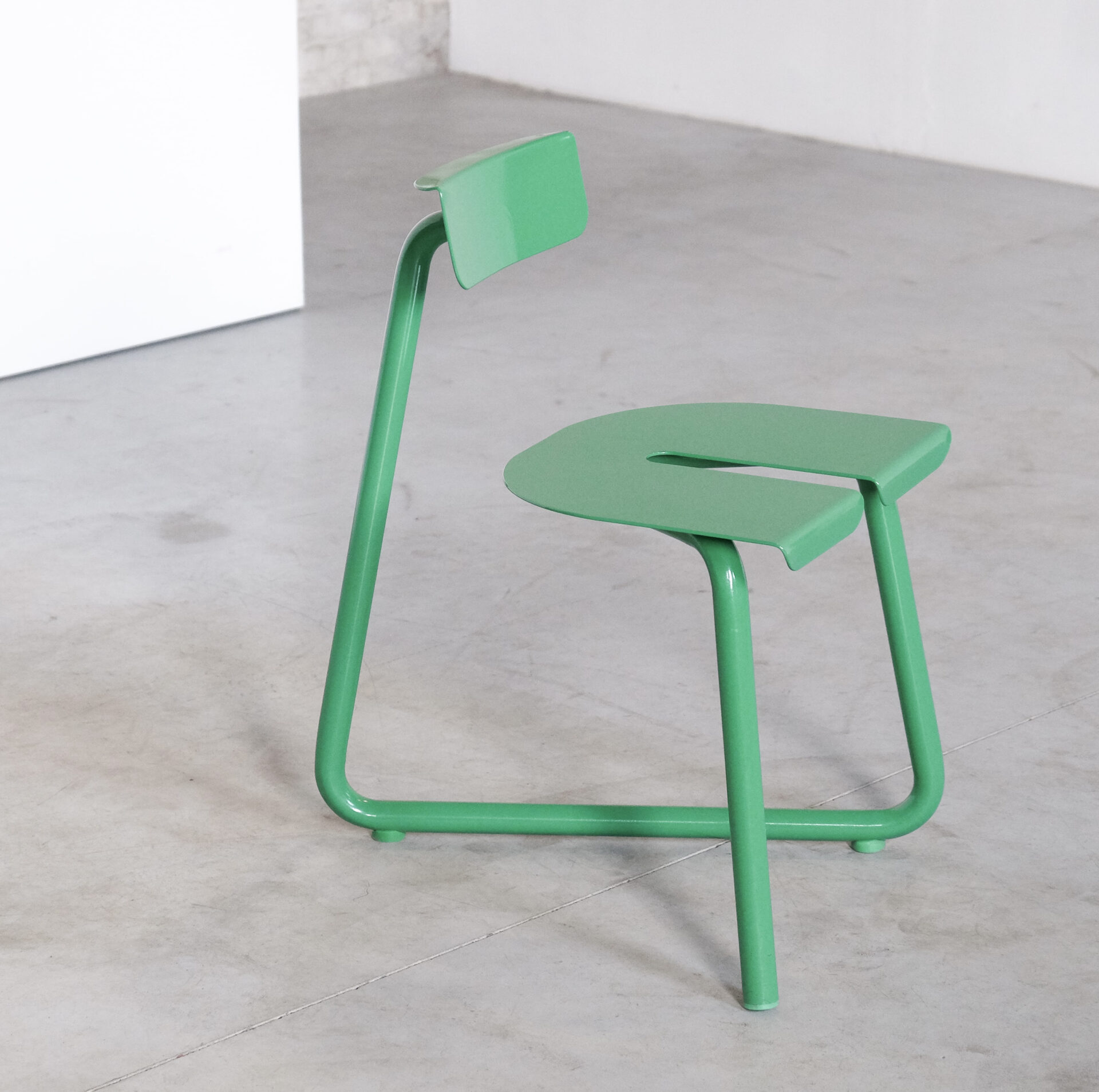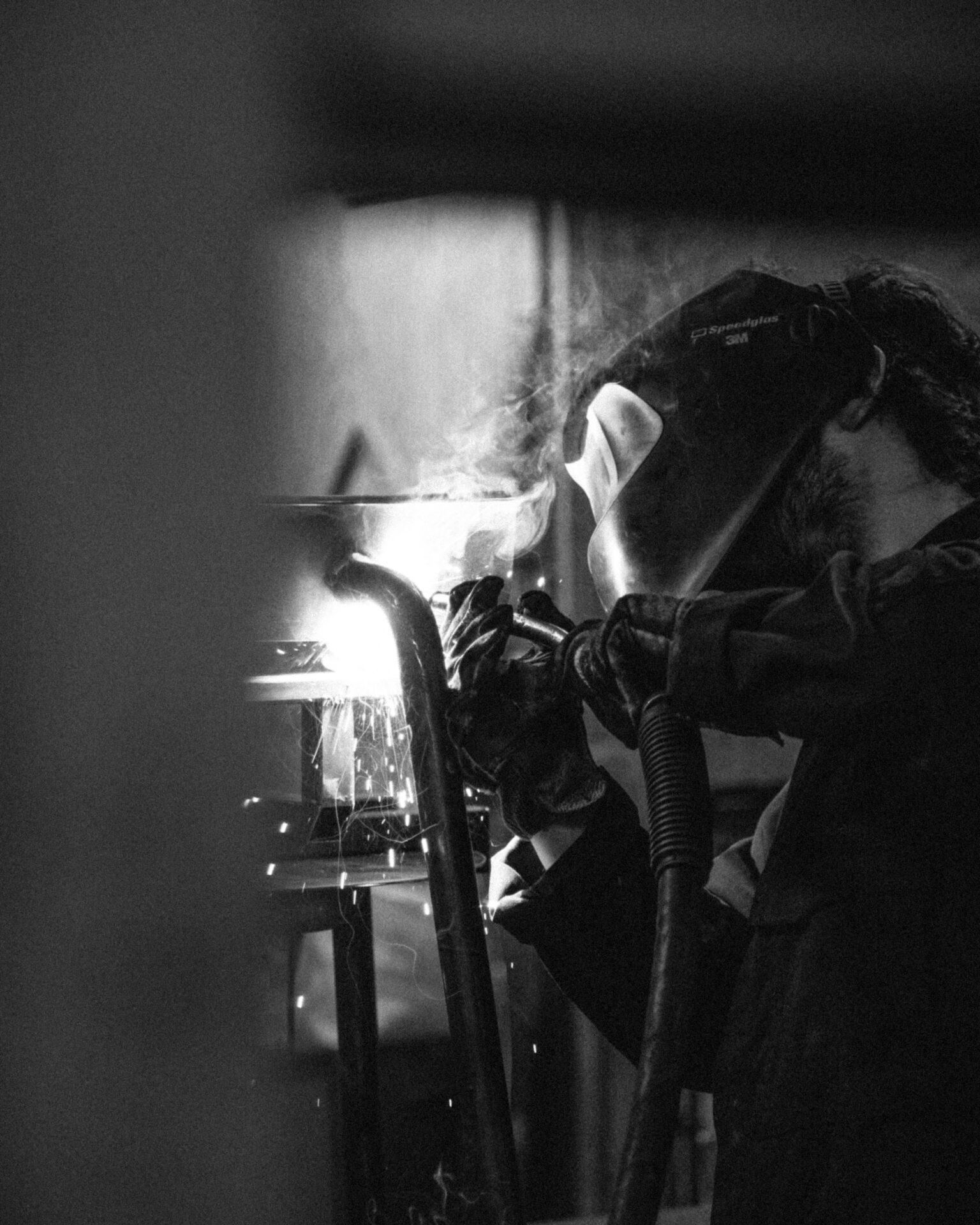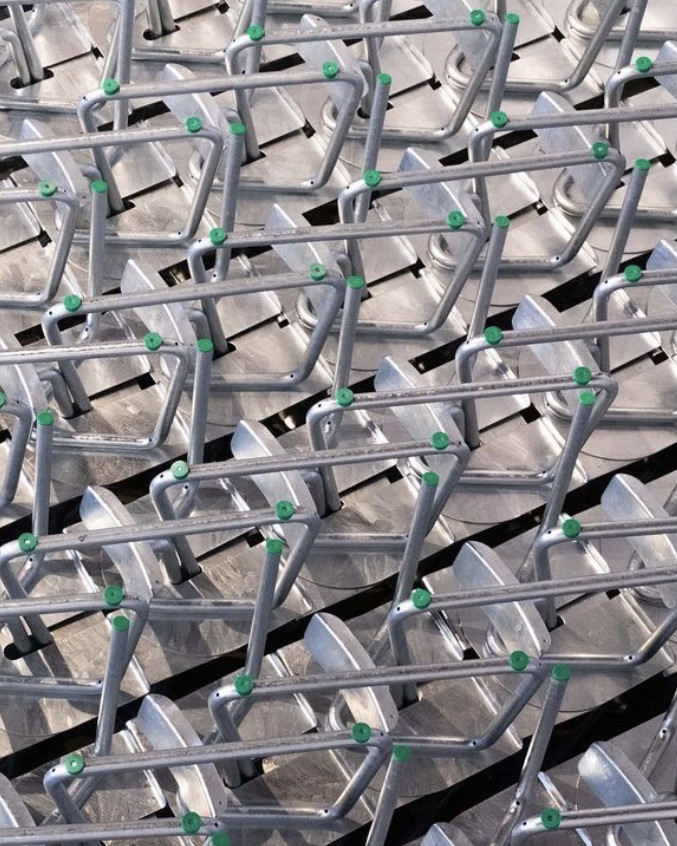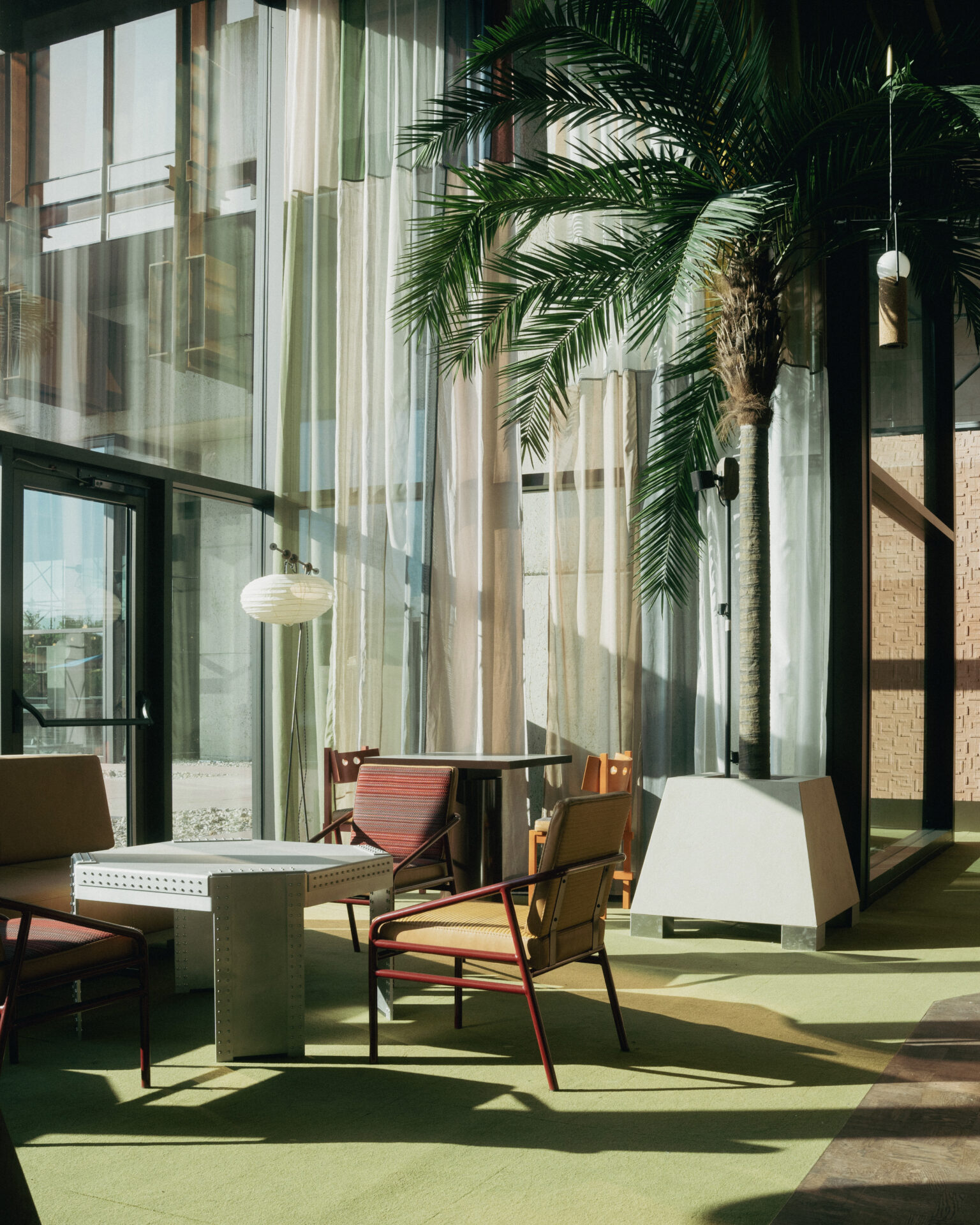 This art piece, located in the Library and hotel Lobby, embodies a thoughtful blend of sustainability and craftsmanship. It repurposes textile deadstock through meticulous cutting, assembly, and sewing. These imposing 6-meter curtains feature enlarged patterns and bold color blocks, offering a subtle yet impactful testament to transformation and creativity.
art work / Library curtains
art work location / Hotel lobby and library, 2nd floor
artist socials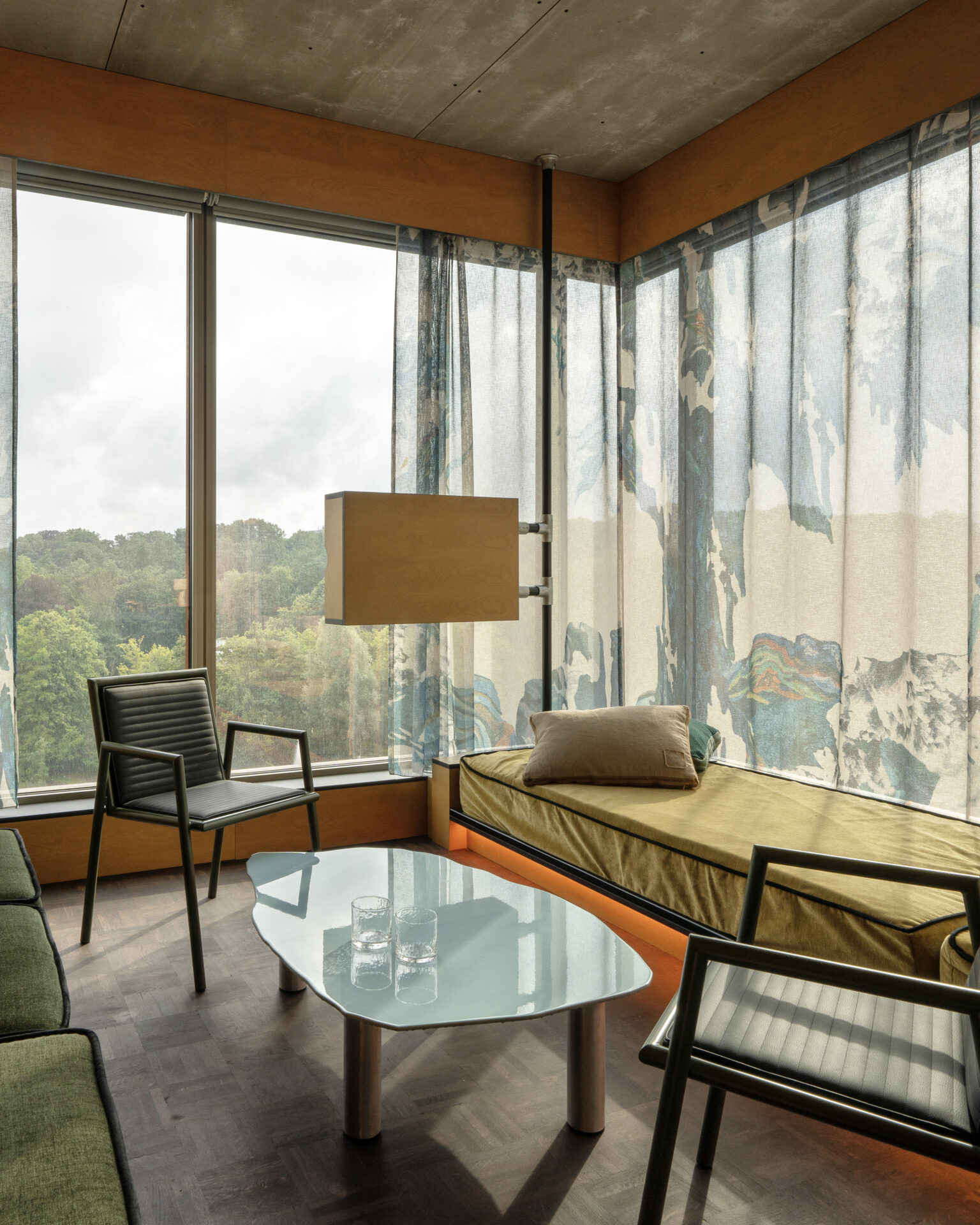 Discover the comfort and style of the Type AA chairs, thoughtfully placed on the terrace and within our hotel rooms. They have been meticulously designed and brought to life by RIMRAM, a studio based in Belgium.
art work / AA chairs
art work location / Hotel rooms & terrasse
artist socials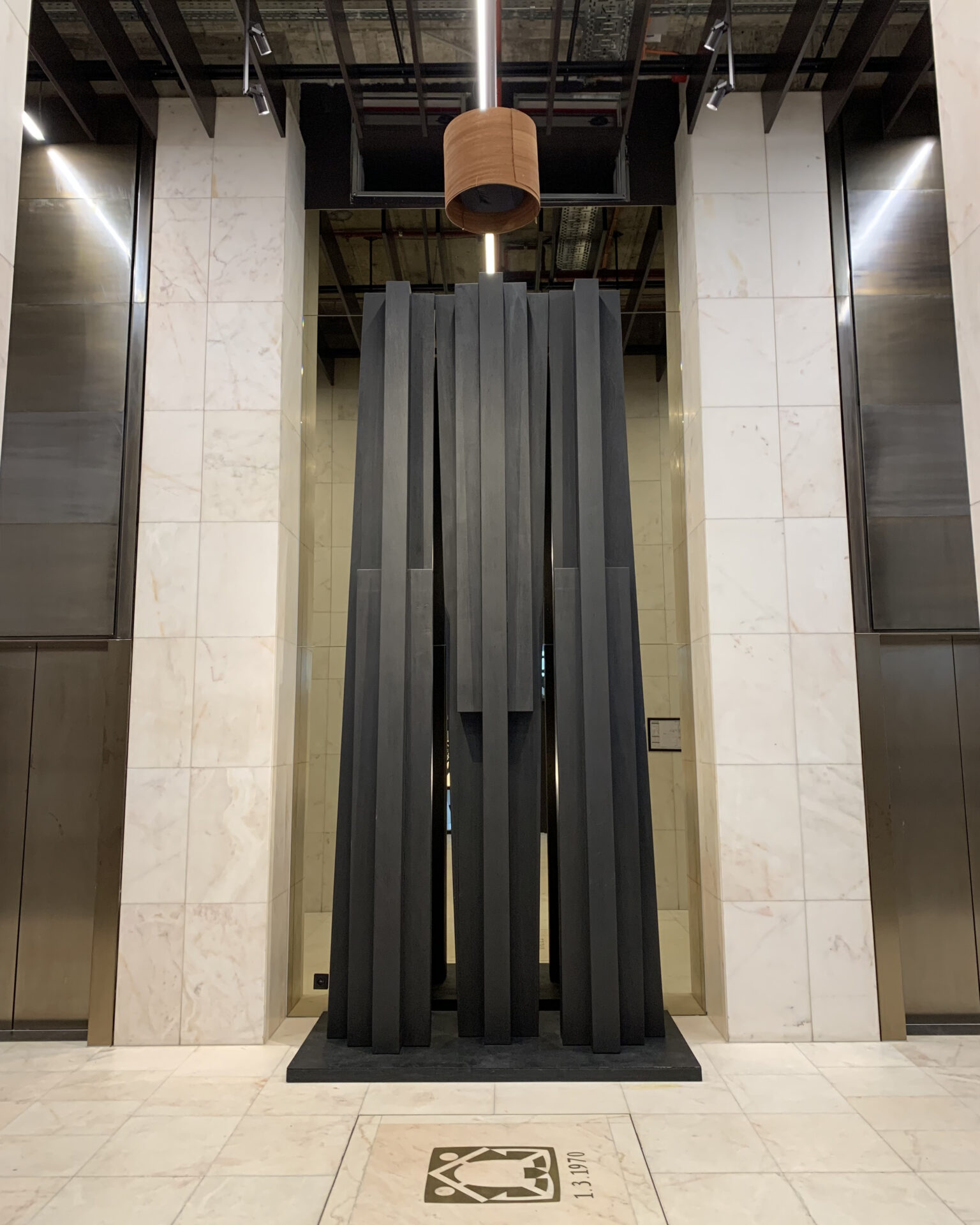 Arno Declerq made for Mix his very first large public sculpture. This giant art piece of 4,2 meter tall and almost 2 meter wide called the Bunker have been created all by-hand with black wood from West-Afrika. The sculpture has been thoughtfully positioned and brings balance in the colder white marble hallway where the guests find the elevators.
art work / The Bunker
art work location / Hotel hallway, 2nd floor
artist socials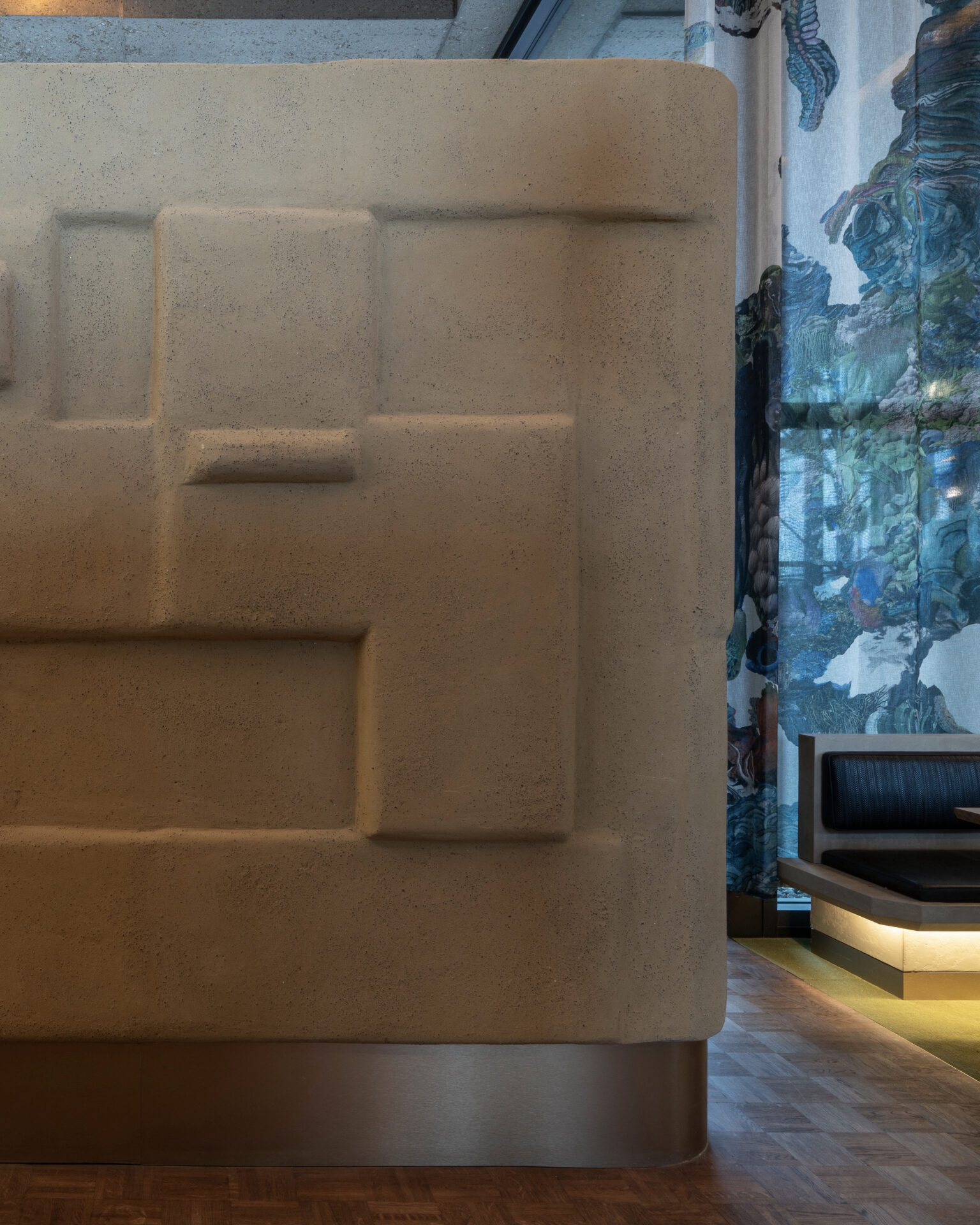 Grond studio works with raw earth materials because they stand for a better connection between humans and nature. They've crafted for Mix two immense 3D-volumes at the lounge of the hotel. They developed a specific texture (a mix of smoked cork, clay, sand, gravel) to decorate the two volumes intuitively. The door knob comes from La fonderie woit adding a robust element to their playful volumes.
art work location / Timber, 2nd floor
artist socials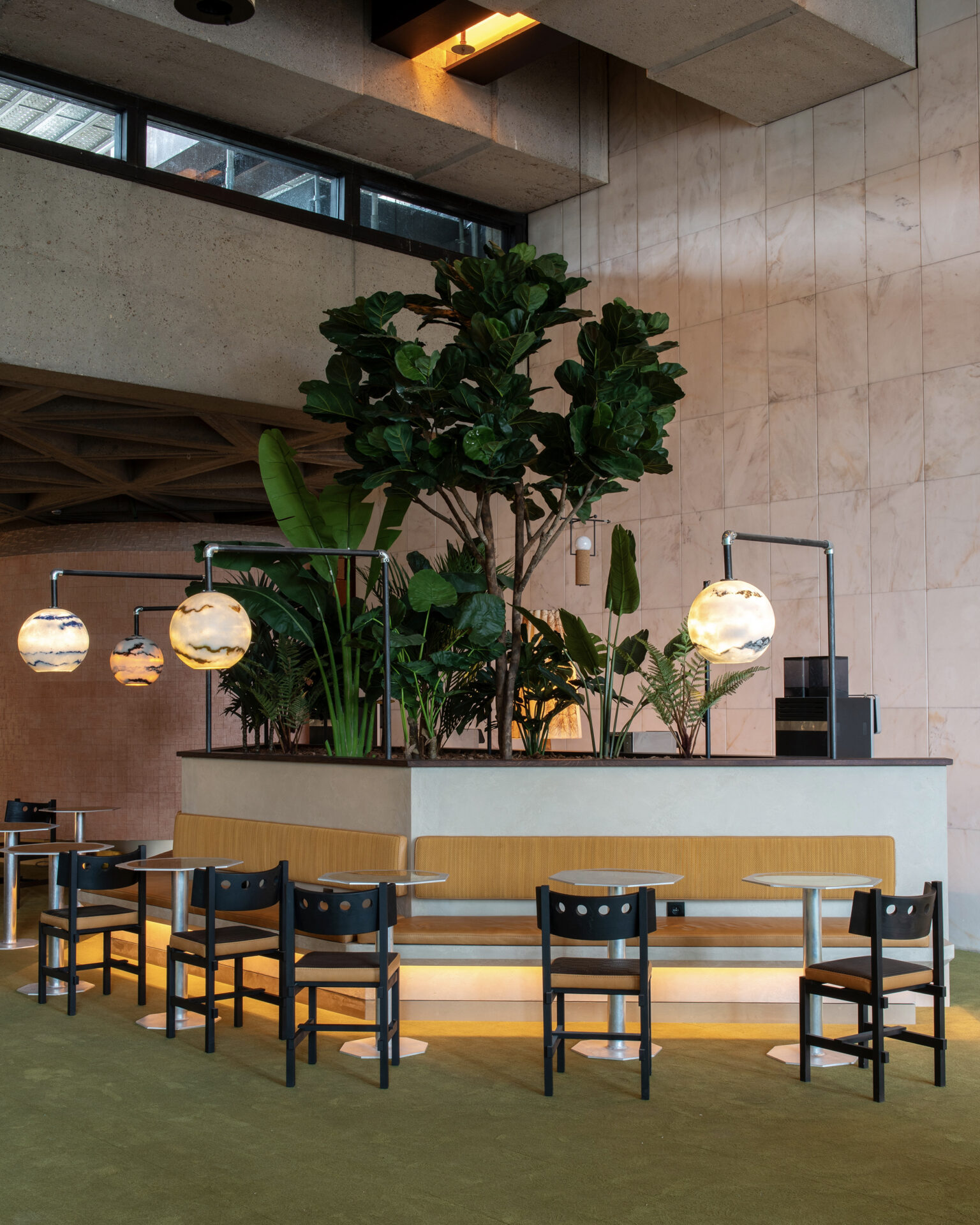 Roxane Lahidji contributed to the project of Lionel Jadot by making not less than 300 lamps. She creates objects and surfaces of luxurious aspects at low costs with raw resources. Roxane redefines the meaning of objects by creating a balance between local and renewable resources. She has designed marbled salts suspensions and lampshades for coworking spaces and hotel rooms. 
art work / Marbled salts lamps
art work location / Hotel rooms and coworking, 2nd floor
artist socials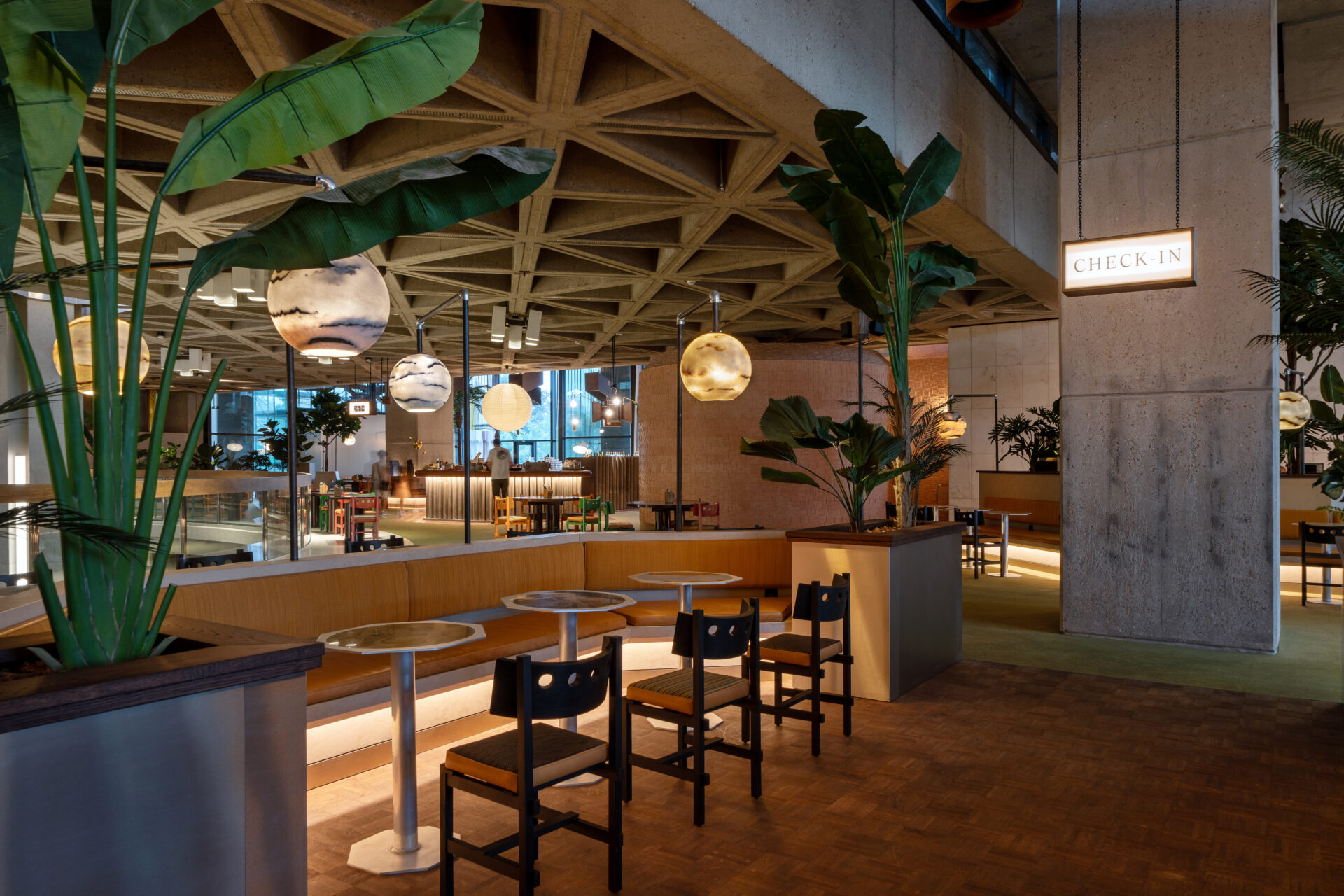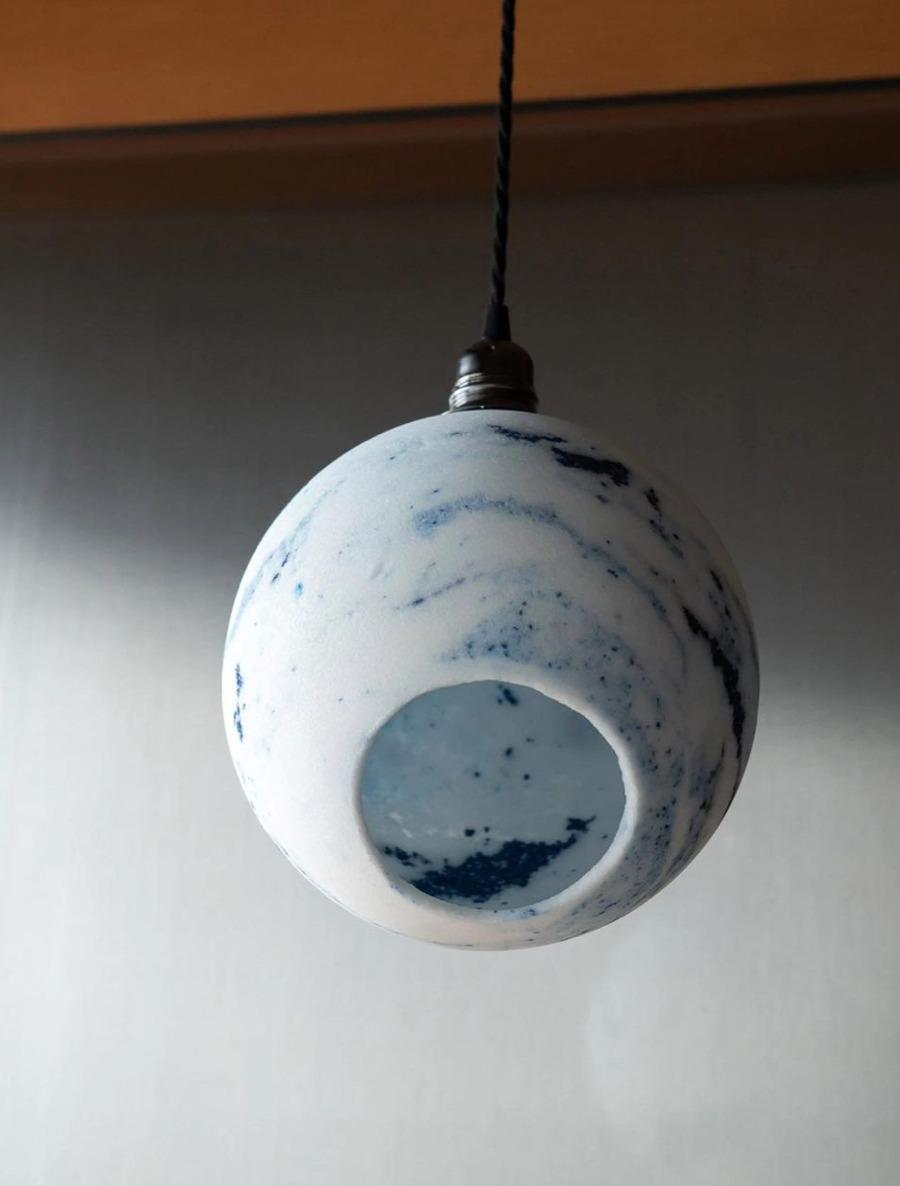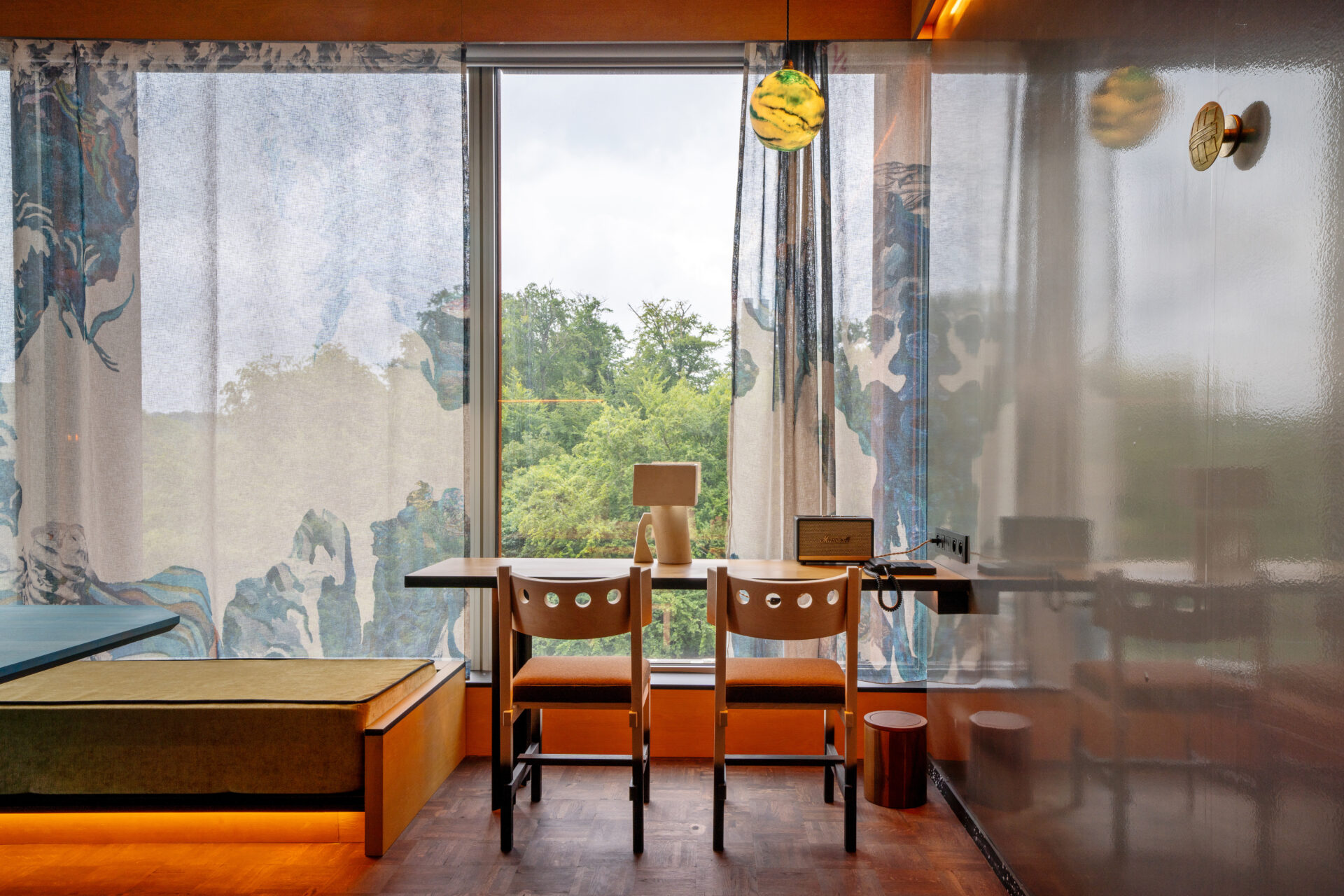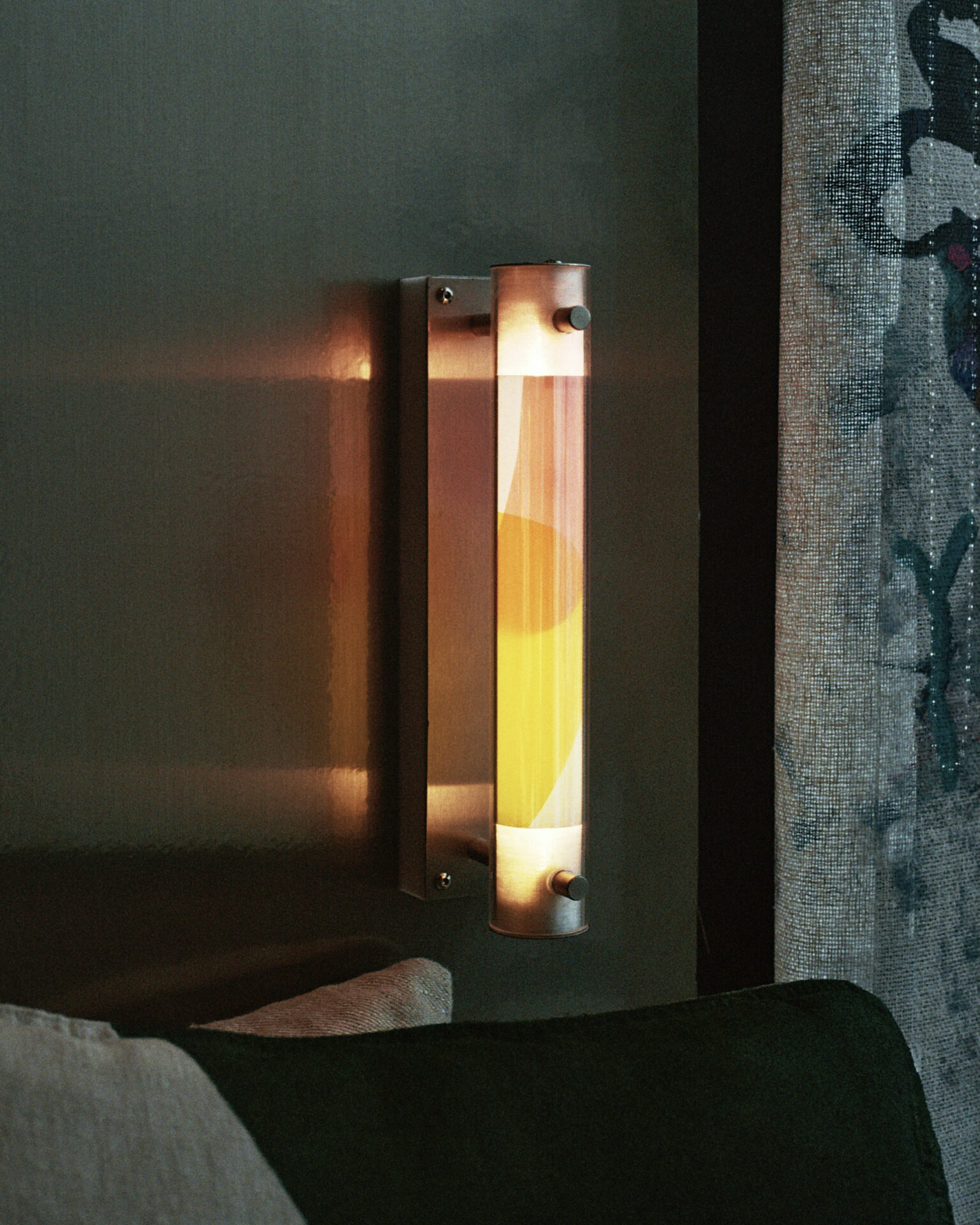 Studio Élémentaires is a french studio founded by artists Apolline Couverchel and Gauthier Haziza. The different types of lamps and luminaires they made for us where created from a unique creative approach, at the crossroads of craftsmanship and new technologies which gives their works a radical force that is both conceptual and aesthetic. Performative, evolving or inviting to interactions, their moving sculptures – scale up from installations to objects – confront through the notion of sequence, our relationship with time. 
art work location / Hotel rooms and gym
artist socials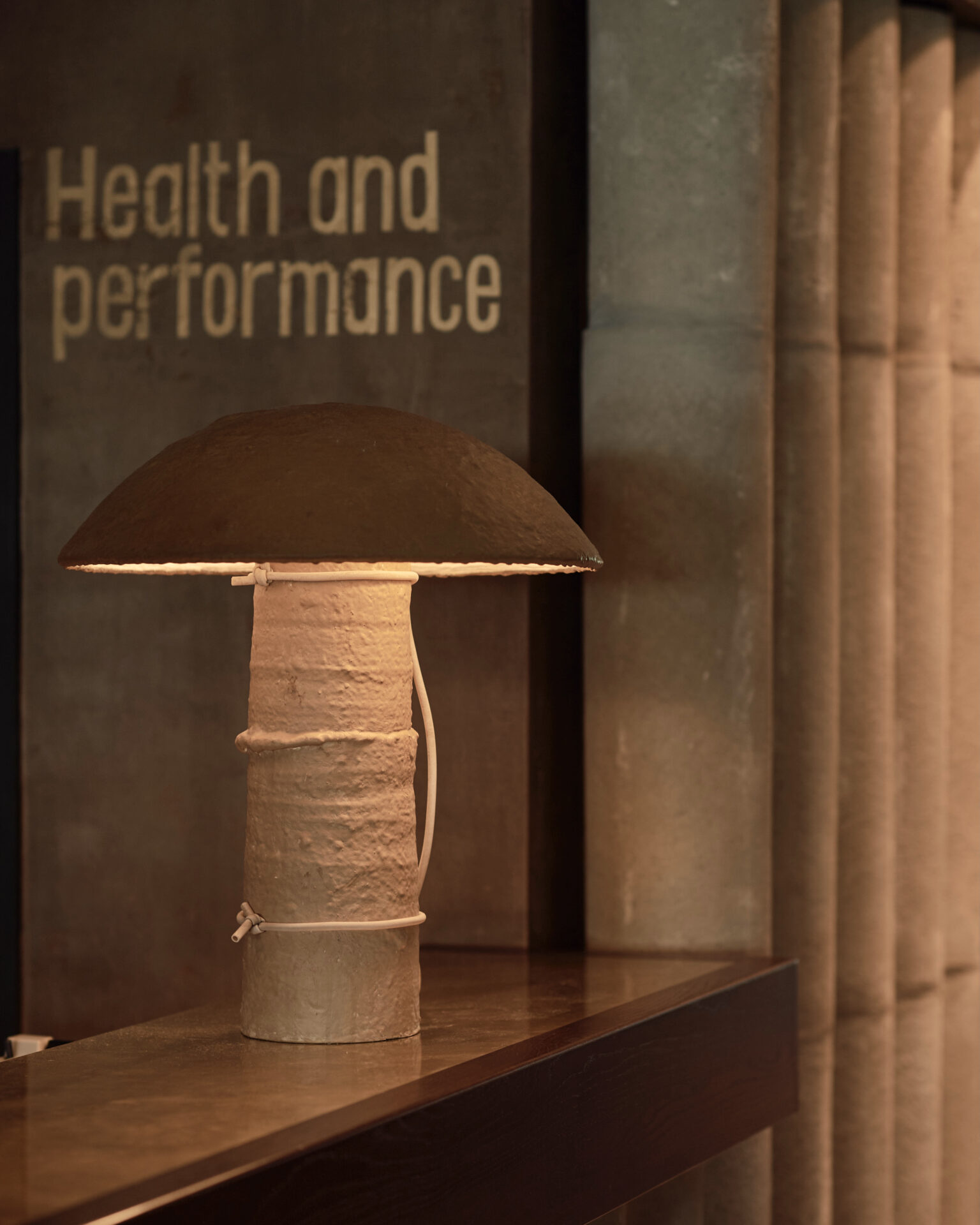 Self-taught, Pierre Coddens designs and creates objects instinctively. His work is on the one hand a research on the meaning of the object and the confrontation of different forms, materials and textures in a search for harmony, balance and universality. 
art work / Mushroom lamps
art work location / Hotel rooms and 2nd floor
artist socials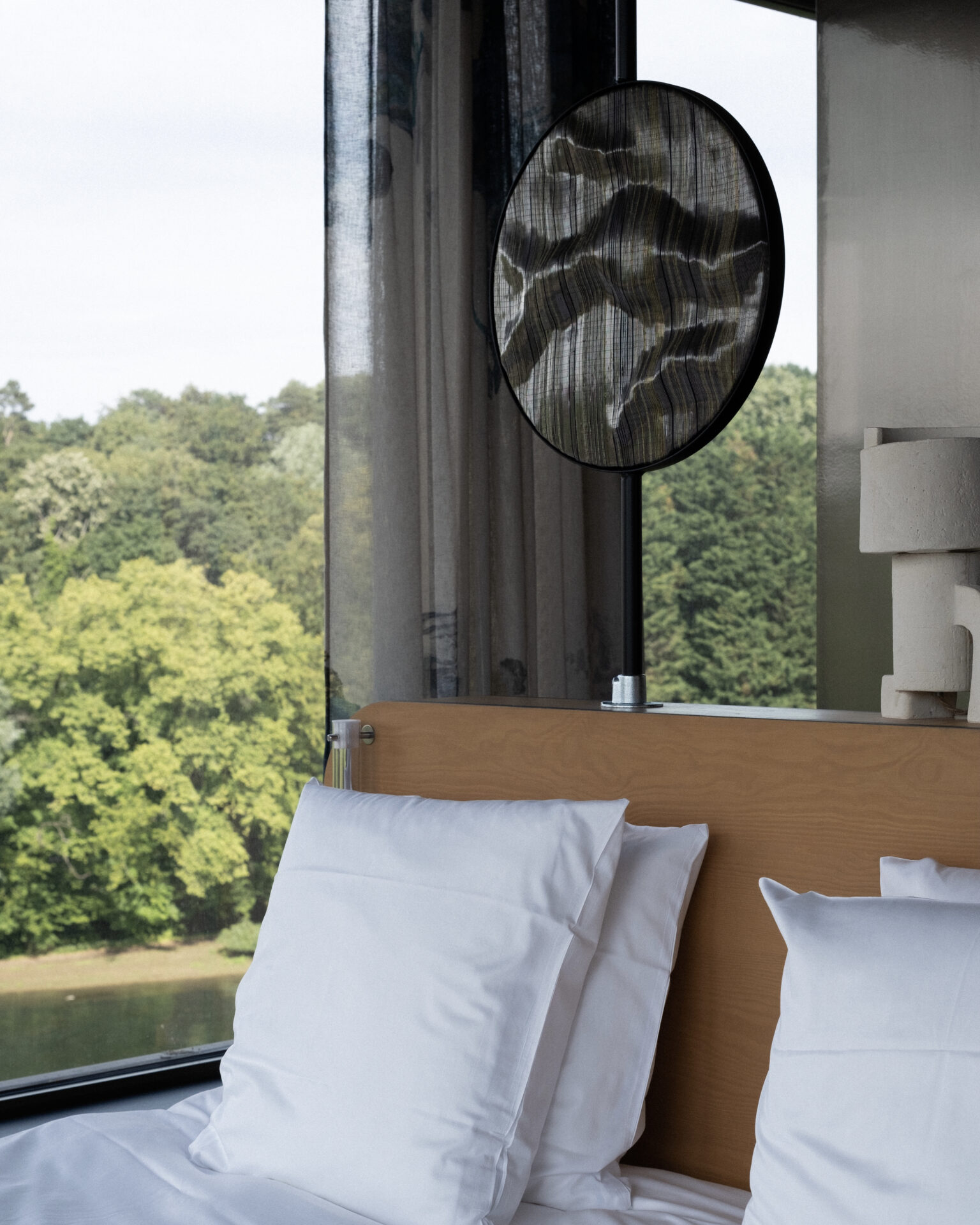 Adeline Halot creates unique metallic textile works. Each piece, executed by hand, expresses a desire to translate natural elements – minerals and plants – through weaving. The combination of natural fibres and metal reveals a dynamic result. As light filters through and reflects upon it, the material comes to life.
art work / Mirrors
art work location / Hotel rooms
artist socials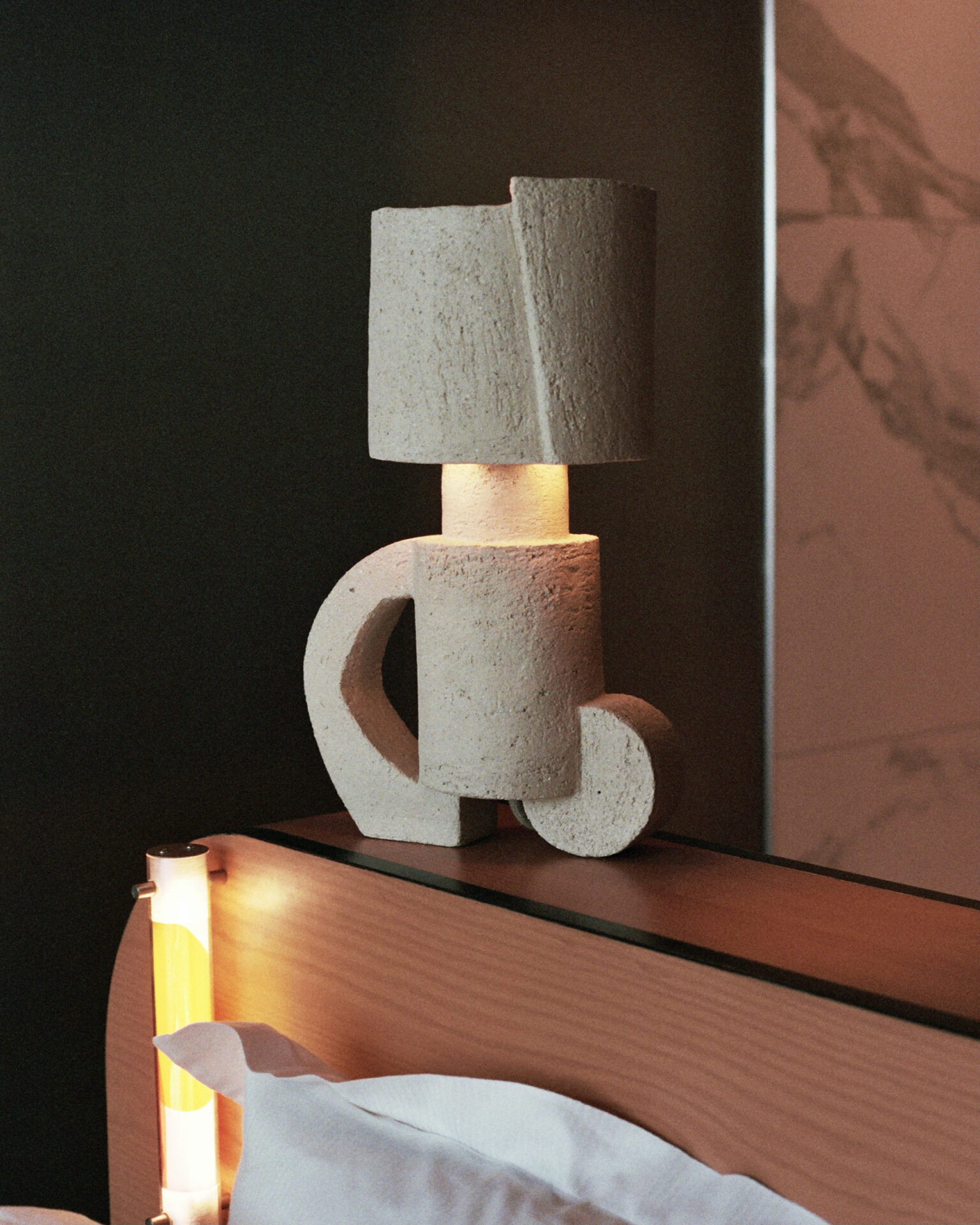 Whether she is working on bespoke wallpaper, hand-tufted carpets or artistic ceramics, Pascale always offers exceptional pieces designed through a creative and intuitive process. Indeed, she imagines singular creations with an assumed audacity that borrow from nature and diverse artistic movements, their subjects and motifs magnified by a remarkable work of research.
art work location / Hotel rooms
artist socials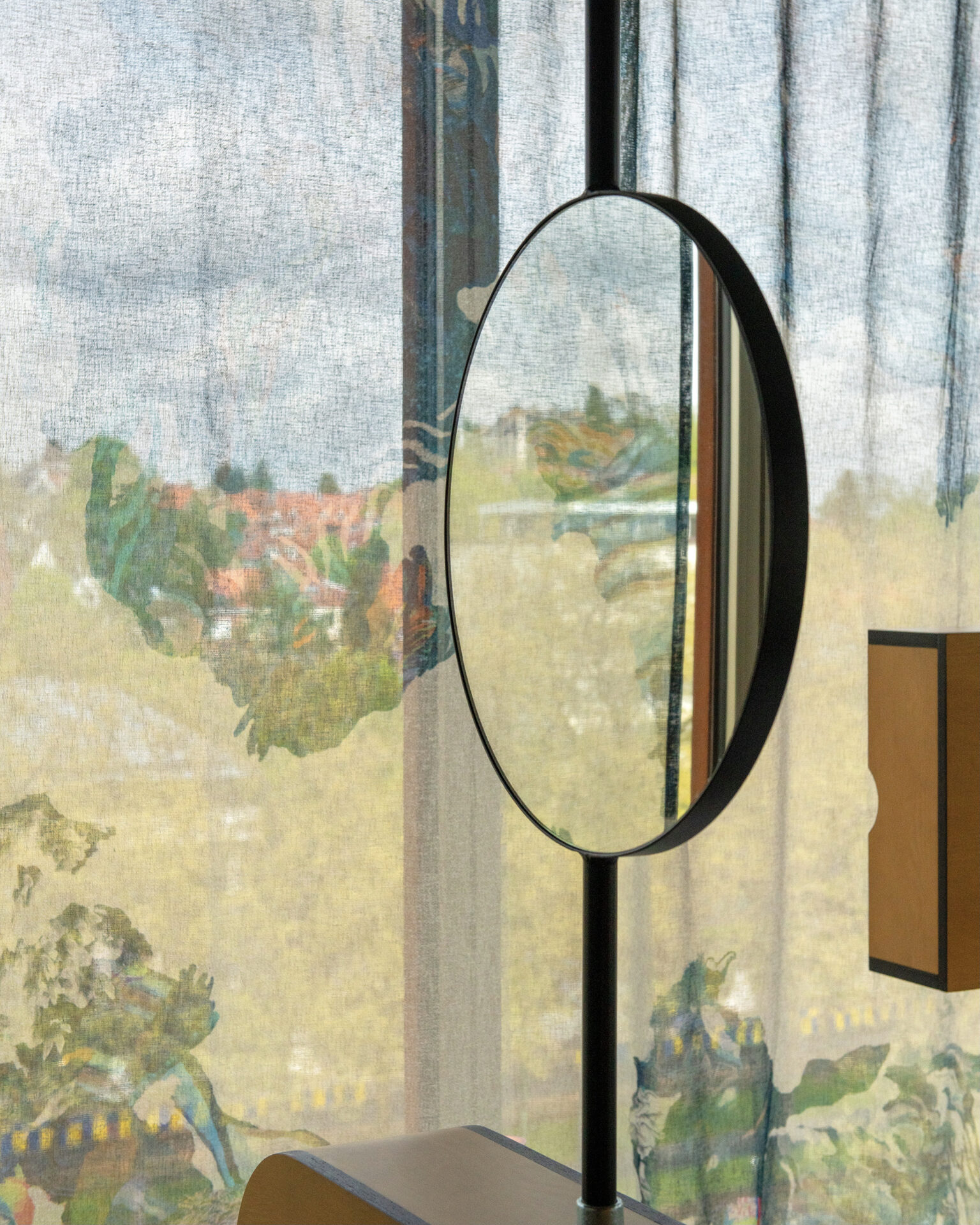 KRJST studio is the Belgian artistic duo composed by Justine de Moriamé and Erika Schillebeeckx. They create elegant and monumental hand-embroidered tapestries. For Mix, they made sumptuous curtains for all rooms but also for the bistronomic restaurant Timber. KRJST puts colors in its art to express what words fail to describe; they paint with weaving threads imaginary landscapes of a poetic, calm, and yet tormented realm, the chaos where emotions are born. 
art work location / Hotel rooms & Timber
artist socials